WHAT IS A YRDPOD?
It's a Pod located in a Yard! The dictionary defines a Pod as: streamlined enclosure, housing, or detachable container of some kind; and Yard as: a piece of enclosed ground adjoining or surrounding a house or other building.
The YrdPod tiny house has been designed by award-winning architects Kreis Grennan Architecture. They are crafted as a beautiful architectural building, providing a flexible addition to an urban or rural space.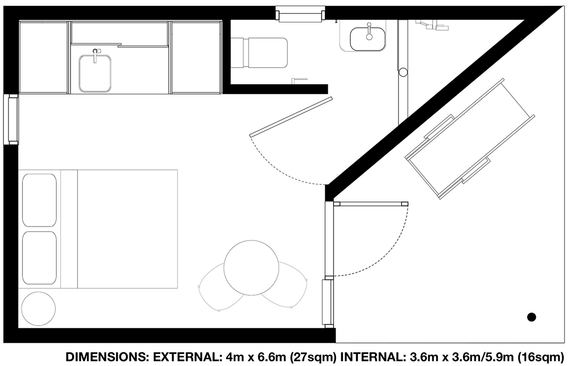 ARCHITECTURE
Built on a solid concrete slab, the walls and roof are constructed from engineered panels, finished outside in matt-charcoal corrugated metal and inside in natural oiled birch plywood with expressed black joints. The roof is of a low profile without dominating the open space, integrating well in established backyards or nature settings.

Large floor to ceiling windows enhance the sense of space and allow natural light and air to flow through the pods. The joinery is designed with integrated storage options, beautiful detailed in whiteHigh-Pressure Laminate plywood. The bathroom is finished in a bright and warm yellow, with white fixtures and black fittings.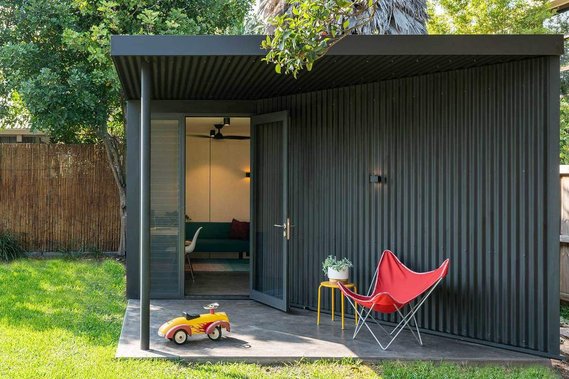 SUSTAINABILITY
The architect will conduct a site analysis to identify the best location and orientation. The YrdPod is designed to use passive cooling and heating techniques, capturing cooling breezes by cross ventilating through full height louvred windows and an earth coupled slab with thermal mass for heating. Together with insulated walls and ceiling makes the YrdPod comfortable in winter and summer.
Low powered LED light fixtures throughout reduce energy consumption, and an optional PV solar panel and battery system make the pod capable to be off-grid. Low embodied energy through the usage of light-weight and local sourced building materials, together with FSC certified plantation timber and plywood sheets ensure an environmentally sensitive approach to construction.
BUILDING APPROVAL
Based on the intended use, the local government policies and zoning there are different options to obtain building approvals.
No approval: The YrdPods can comply with the requirements of the NSW Exempt Development Code and may be built as a non-habitable structure without planning approvals.
Complying Development: In most cases a fast-tracked development system in NSW allows expedited approval of developments through a private certifier.
Council Development Application (DA): Where exempt or complying development are not an option, a DA with council must be lodged. The small footprint and environmental impact of the YrdPods makes it easy to obtain building approval.
AFFORDABILITY

The YrdPods is visually beautiful, solid built and durable for an extend lifespan. Many competitors in Australia offering generic, low-cost, tiny houses at a lower price, which lack the aesthetics, quality of construction and design of a YrdPod.
Through the use of engineered and pre-fabricated building materials, the YrdPod can be built and fitted out in a short timeframe.
The YrdPod pricing starts from $60,000 for the base model with no kitchen, bathroom and deck. The price excludes site specific delivery and installation cost. Speak to Kreis Grennan Architecture to obtain a quote or get more information.